R for Social Research 1
September 10, 2020 @ 8:00 am

-

September 11, 2020 @ 5:00 pm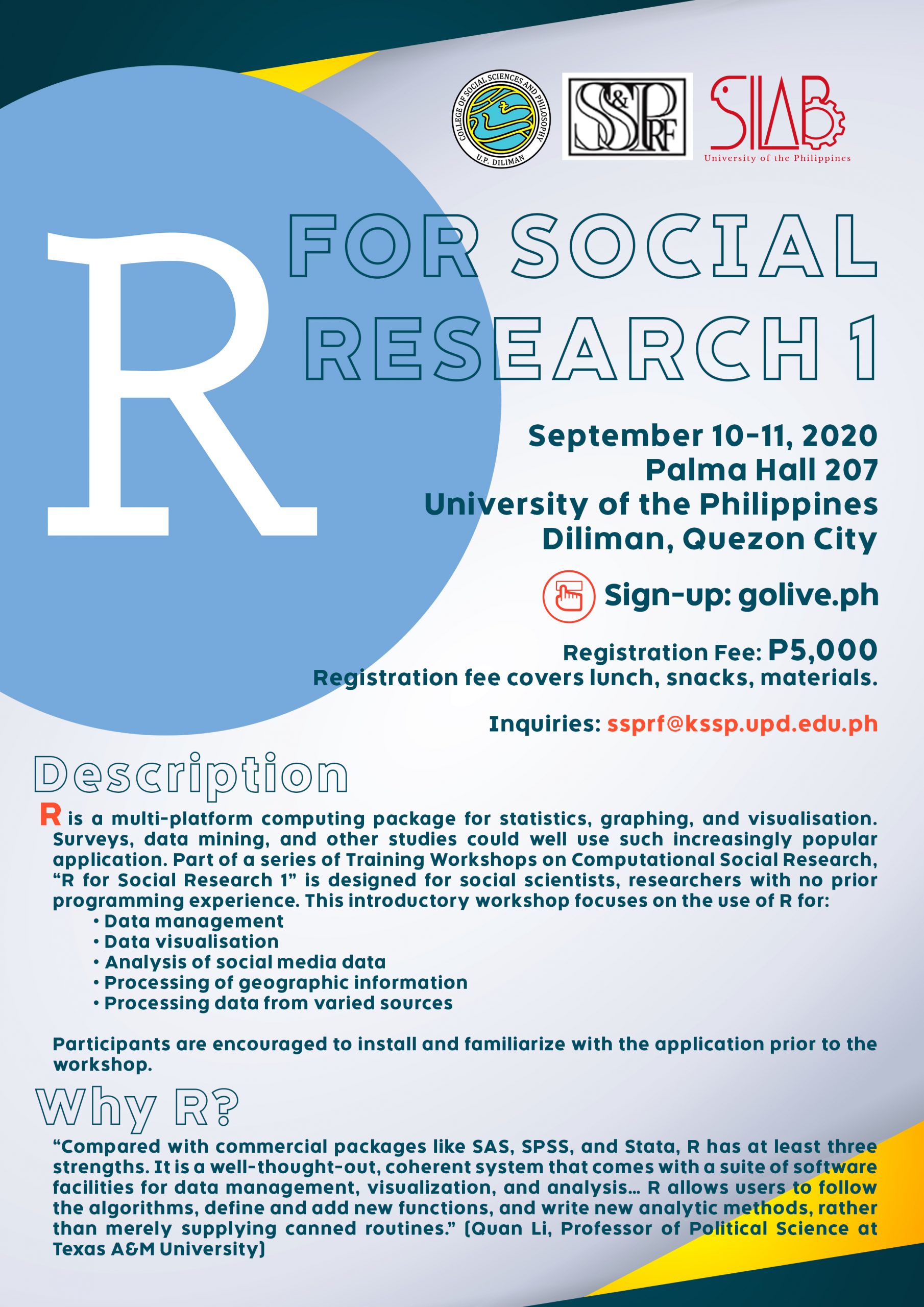 Training Workshop: R for Social Research 1
September 10-11, 2020
Palma Hall 207
University of the Philippines
Diliman, Quezon City
Sign-up: forms.gle/tCsQigp18AD1kKJ36
Registration Fee: P5,000
'Early Bird' Rate (till June 30): P4,000
Registration fee covers lunch, snacks, materials.
Inquiries: contact@upsilab.org / ssprf@kssp.upd.edu.ph / +63 2 8426 3801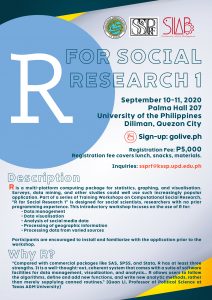 DESCRIPTION
R is a multi-platform computing package for statistics, graphing, and visualisation. Surveys, data mining, and other studies could well use such increasingly popular application. Part of a series of Training Workshops on Computational Social Research, "R for Social Research 1" is designed for social scientists, researchers with no prior programming experience. This introductory workshop focuses on the use of R for:
– Data management
– Data visualisation
– Analysis of social media data
– Processing of geographic information
– Processing data from varied sources
Participants are encouraged to install and familiarize with the application prior to the workshop.
Why R?
"Compared with commercial packages like SAS, SPSS, and Stata, R has at least three strengths. It is a well-thought-out, coherent system that comes with a suite of software facilities for data management, visualization, and analysis… R allows users to follow the algorithms, define and add new functions, and write new analytic methods, rather than merely supplying canned routines." (Quan Li, Professor of Political Science at Texas A&M University)